[vc_row row_type="row" use_row_as_full_screen_section="no" type="grid" angled_section="no" text_align="left" background_image_as_pattern="without_pattern" css_animation=""][vc_column][vc_column_text]
By Shiloh Halsey and Nicole Budine
[/vc_column_text][vc_empty_space height="35px"][/vc_column][/vc_row][vc_row row_type="row" use_row_as_full_screen_section="no" type="grid" angled_section="no" text_align="left" background_image_as_pattern="without_pattern" css_animation=""][vc_column][vc_column_text]Road restoration can offer many benefits for wildlife and ecosystems. People also benefit from an improved and simplified national forest road system! Road restoration can include everything from updating and repairing roads to closing or fully decommissioning them.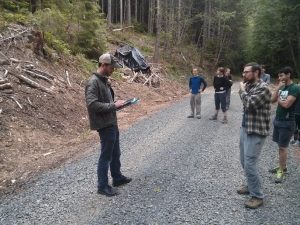 Presently, there are over 4,000 miles of roads in the Gifford Pinchot National Forest, enough to go to Texas and halfway back. Many of these are not used or needed but remain on the system, impacting wildlife in a variety of ways.
The Ecological Effects of Roads
Roads can fragment habitat, increase sediment in streams, block stream connectivity, and increase the spread of invasive plants. Also, when there are too many roads to maintain, they can end up washing out, which can affect fish and wildlife populations, water quality and access to our favorite places in the forest.
Climate change is likely to exacerbate many of the negative impacts from roads, especially by increasing the amount and severity of high streamflow events. We need to work to ensure that our road network is resilient to these projected changes.[/vc_column_text][vc_empty_space height="35px"][vc_row_inner row_type="row" type="grid" text_align="left" css_animation=""][vc_column_inner][vc_empty_space height="10px"][vc_column_text]
What we can do to improve Watersheds and Habitats
We are working to update our knowledge about the current status of roads in the Gifford Pinchot by leading road surveys to locate blocked culverts, measure erosion, and help prioritize which roads are optimal candidates for repair or closing.
Blocked culverts negatively impact stream connectivity and fish habitat, and they can cause roads to wash out, which is a substantial expense both financially and ecologically. Areas of erosion, such as when water running along gravel roads and back into streams, brings heavy loads of sediment into waterways, affecting fish and water quality for downstream communities.
We are also working with stakeholder groups and the U.S. Forest Service to incorporate road restoration into forest management projects. Generally, we believe that reducing the amount of road miles should be one of the restoration activities associated with each timber harvest project. This is often cost- and time-effective because the federal review processes for both timber harvest and road projects can be combined into one effort.
Also, since road work would be occurring at the same time as other actions, the impact from active management would be less. Road closures and decommissioning should also be considered for stand-alone projects. CFC is part of a broader network, called The Washington Watershed Restoration Initiative (WWRI), which is aimed at bringing in federal funds for local road restoration projects.
How we are Restoring Habitats
Road decommissioning efforts should be coupled with planting of native species along the former road to speed up regrowth and decrease continued impacts from erosion. This work is sometimes carried out by the Forest Service or local contractors, as it is written in the road improvement plan.
Other times, volunteers can get involved and assist with the planting efforts. Because there is such a great need for road restoration and the work involves heavy machinery and skilled labor, it can be an important economic driver for contractors that specialize in road improvement projects. We feel that road restoration should be prioritized for contractors in local communities that surround the forest.
Check out our list of stewardship trips at the link below and sign up for a road survey this summer! To support our work, we also encourage you to become a member of the Cascade Forest Conservancy.
[/vc_column_text][vc_empty_space height="35px"][/vc_column_inner][/vc_row_inner][/vc_column][/vc_row][vc_row row_type="row" use_row_as_full_screen_section="yes" type="grid" angled_section="no" text_align="left" background_image_as_pattern="without_pattern" css_animation="" css=".vc_custom_1465592094531{background-color: #96d1ae !important;}"][vc_column][/vc_column][/vc_row]