the green river valley & Mount St. Helens:
fIGHTING A PROPOSED OPEN-PIT MINE IN THE SHADOW OF MOUNT ST. HELENS (LAWETLAT'LA)
A COALITION FIGHTING TO SAVE AN irreplaceable landscape
Since 2005, the Cascade Forest Conservancy and our partners have been working to protect the Green River Valley, near Mount St. Helens, from an open-pit hard rock mine. So far, we have stopped a series of permits for prospecting operations through lawsuits, coalition building, and advocacy. But, after each victory, our opponents filed new applications and received new permits. Fighting each new attempt to mine here won't work forever. We need to protect this place from the threat of mining permanently.
Raise your voice: tell congress this is no place for a mine
You can help us secure a long-term solution to the threat of mining.
Congress has the power to permanently protect the Green River Valley and nearby Mount St. Helens (Lawetlat'la) from the threat of mining through the legislative process known as a mineral withdrawal. A mineral withdrawal prohibits mining within a designated area. It does not interfere with any other land uses. This incredible area continues to be at risk until a mineral withdrawal is signed into law. Add your name to the petition below to ask Congress to act now!
A mine in the Green River Valley would be:
A Threat to Water, Fish, and People
If the mine is built, polluted groundwater and potential tailing pond breaches of toxic mining waste would threaten the Green River and the life that depends on it. The Green River is an important habitat for many species, a gene bank for wild steelhead, and is eligible for a Wild and Scenic River designation. The Green River also flows into drinking water sources for thousands of people living along the North Fork Toutle River and Cowlitz River.
This area remains very seismically active, increasing the chances that a tailing pond breach will lead to a disaster for communities in SW Washington.​
The construction of a mine in the Green River Valley would be a huge disappointment to the many hikers, cyclists, back-country horse riders, hunters, and anglers who come here to experience a beautiful and remote corner of the Cascades. Much of the area that would be impacted by mining was purchased by the Forest Service using funds designated to support conservation and recreation, but the mine would prevent or limit future recreation opportunities and negatively impact tourism, particularly in eastern Lewis County.​
The mine would destroy some of the only old-growth stands in the area that survived the irresponsible clear-cut logging practices of the 20th century and the 1980 eruption. It is vital for the health of our climate and the survival of many iconic NW species to preserve the remaining stands of old-growth in the Cascades before they are gone forever.​
SPEAK UP FOR A SUSTAINABLE FUTURE
Since 1985, Cascade Forest Conservancy has been your voice speaking for the areas in and around the Gifford Pinchot National Forest in southwest Washington. Join the 12,000 other members who support Cascade Forest Conservancy and are making a difference now.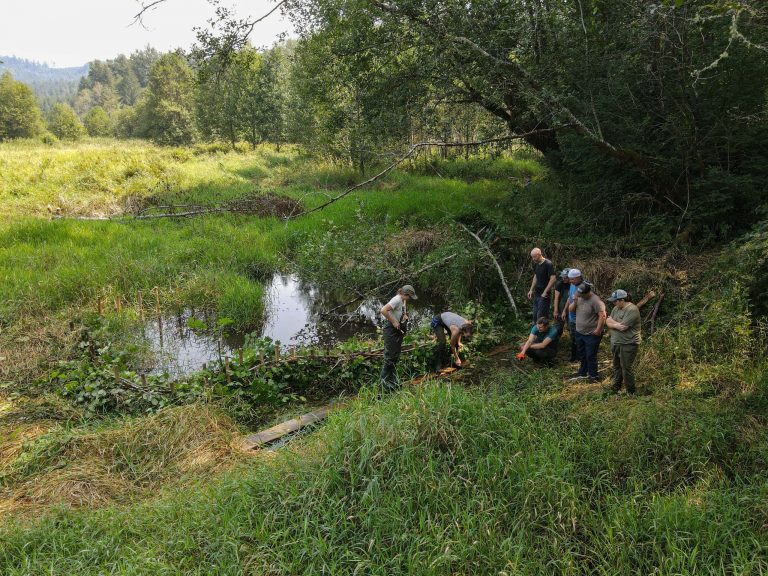 BEAVER DAM ANALOGS AT WOODS CREEK
As a quick recap, beaver dam analogs are man-made structures that are created to mimic the form and function of natural-made beaver dams. Check out the first blog post in this series to learn more about beaver dam analogs and the benefits they provide to an ecosystem. There are a variety of reasons why...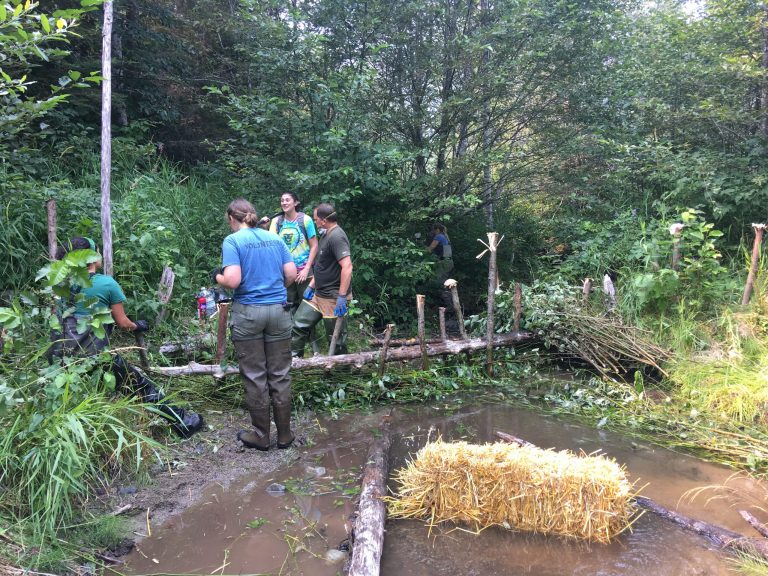 The Key to CFC's new Aquatic Restoration Program: Simple Tools and the Mind of a Beaver
In the coming years, scientists predict our region will continue to experience more frequent and intense droughts, floods, wildfires, insect outbreaks, and other harmful effects of climate change. CFC is working strategically to slow climate change and to build climate resilience where we can now. Restoring degraded ecosystems can help mitigate the climate-related threats our...
NEWS RELEASE | February 23, 2021 Judge rules federal agencies once again violated federal environmental laws in approving mining exploration near Mt. St. Helens.
Judge rules federal agencies once again violated federal environmental laws in approving mining exploration near Mt. St. Helens.   A federal court ruled mineral prospecting permits issued by the Bereau of Land Management and the Forest Service violated environmental laws. The decision is a victory for conservation groups who believe that Mount St. Helens is no...