by Bryn Harding | Communication Manager
May 18 2020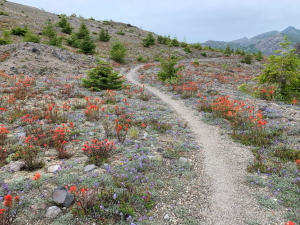 I was born a few years after the eruption of Mount St. Helens. The two five-gallon buckets of fine gray ash stored in our garage were curiosities I mostly ignored as I explored the seemingly ageless mountains, streams, and forests of the Pacific Northwest. They were certainly interesting–not only because of the stories associated with them, but also because their weight seemed alien, as if the contents of the buckets was at once too light and too heavy. In my mind, the Pacific Northwest had always been a place defined by peace and stillness. But as that ash attested to, the Pacific Northwest is in fact a place of incredible power and violence, of death and rebirth, destruction and transformation.
The Pacific Northwest is a land of volcanoes. Major eruptions and corresponding cycles of destruction and regrowth are a part of the fabric of this place. Yet, as common as these events may be geologically, in the span of any single human lifetime they are rare, which is why we are so lucky to have the chance to observe, record, and learn from the areas protected from human interference within the Mount St. Helens national monument, the most active volcano in the Cascades.
At places near the blast zone, like Spirit Lake and the area now referred to as the Pumice Plain, the destruction following the famous May 18th eruption seemed permanent. However, life has already begun to come back. "I've been lucky in my lifetime to watch Spirit Lake transform from a cold, clear body of water to a coffee-colored, lukewarm basin of pathogens and then back to a cold, clear lake teeming with new life." wrote Christine Colasurdo, author of Return to Spirit Lake: Life and landscape at Mount St. Helens, "Spirit Lake is a unique place of mystery and beauty that deserves our awe and respect."
The return of life to the Pumice Plain has been similarly enlightening. Within just a few years of the eradication of all plants and animals, some species started to return, and prairie lupine began to flower. Now the area, featuring trails much enjoyed by curious hikers from around the world, teems with birds and insects, as grasses, wildflowers and young willows sway in the breeze. "The Pumice Plain, once baked clean of life by the 1980 eruption," wrote Colasurdo, "is now one of the prime treasures of the Mount St. Helens National Volcanic Monument. It is where research done by scientists has helped rewrite biology textbooks, and where hikers can experience the awesome power of Mount St. Helens' blast zone."
Spirit Lake and the Pumice Plain have provided us with insights into how habitats, ecosystems and watersheds form, insights that are changing how we think about managing and protecting the world around us. Right now, there are more than 30 studies currently underway in this natural laboratory; each taking advantage of the protected and undisturbed areas within the National Monument to gain insights not possible anywhere else.
Yet today, the Pumice Plain is facing a new threat. This time the danger comes in the form of a proposed road to be constructed through the heart of this unique, beautiful and irreplaceable area. There is a real need for the Forest Service to access infrastructure near Spirit Lake, but we don't think this road is the right solution to that problem. The road risks the unique beauty and insights this site offers to hikers and the ability of researchers to complete their work and add to our knowledge. CFC will be sharing ways you can help us in our efforts to protect this place in the coming weeks.
For now, we encourage you to learn more about Spirit Lake and the Pumice Plain. Reading Christine Colasurdo's helpful and informative book is a great place to start. Colasurdo's book is available by emailing her through her website (www.christinecolasurdo.com.) It's also available online through Annie Bloom's Books and Broadway Books.
If you would like to learn more about some of the scientists working in this area, we encourage you to start with the articles here and here.