June 26, 2020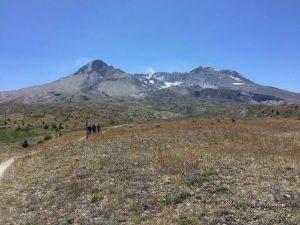 Some places are too special, too beautiful, and too important to risk losing. One of those is the Pumice Plain, a 6-mile long area between the crater of Mount St. Helens and Spirit Lake. This landscape is unique, pristine, and has transformed our understanding of aspects of ecology. Now, a proposed road through the heart of this place is putting it at risk of being lost.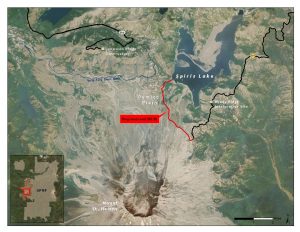 The Pumice Plain is, in geologic time, a brand-new area. When Mount St. Helens erupted forty years ago on May 18, 1980, it erupted sideways. That day, the area north of the mountain was buried under hundreds of feet of superheated ash and pumice–nothing survived.
But more quickly than we thought possible, life has come back. The Pumice Plain is still a rugged, harsh, windblown landscape–but now rich with insects, flowers, plants, and animals, each attesting to the stubborn resilience of life. The area's protected status has meant that hikers have had a unique opportunity to see a Cascadian volcano's power and the return of life up close. It has also allowed scientists and researchers to make some surprising discoveries that wouldn't have been possible anywhere else on Earth.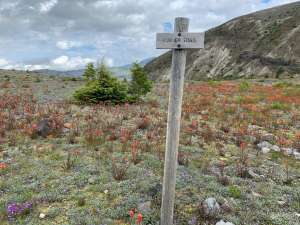 Despite the area's scientific value and protected status as a National Monument and a Class I Research Area, the Forest Service plans to construct a road here for easier access to infrastructure (a drainage gate at nearby Spirit Lake). The drainage gate helps prevent a breach of the lake, which could pose serious danger to downstream communities. But this road is not the only (or even fastest or best) way to keep people safe. The road would close the world-famous Truman Trail, damage newly forming streams and watersheds, introduce invasive species, and disrupt, or end ongoing scientific studies. We could lose this place forever.
There is enough we know now to stand against this project. Yet the real extent of the potential impacts are not fully understood. The Forest Service avoided their obligation under the National Environmental Policy Act (NEPA) to provide an Environmental Impact Statement (EIS), a detailed study which is typically required for a project like this. They did so by announcing a Finding of No Significant Impact, meaning the Forest Service has come to the conclusion that the road will not have a significant impact (positive or negative) on the people, plants, and animals who inhabit this place. We know that isn't true. There will be impacts, and they will be permanent. We need to know what they will be.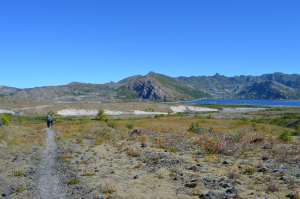 There are other problems with the plan too, like the addition of core sample drilling along the lake and many more issues you can read about in detail in our objection, submitted to the Forest Service in May, which you can read here. It is critical that we stop this planned project and find a better way to protect people living in downstream communities. We are asking the agency to take a step back. Cascade Forest Conservancy is ready and willing to advocate for the funding the agency needs to complete a full EIS, and to work cooperatively to explore alternative solutions that protect Washingtonians while preserving this irreplaceable place.
The official objection period for this project has passed, but it's not too late to raise more public awareness for the Pumice Plain. Share this article, or plan a visit to the Pumice Plain to see how special this place is for yourself. Cascade Forest Conservancy and many other organizations and concerned individuals submitted objections to the Forest Service. We will attend an objection resolution meeting with the agency on July 8th. After, we will know if the Forest Service will decide to work with us to find a better solution, or if the agency will push forward with the plan as is. Either way, we will continue fighting to preserve this landscape and keep our friends and supporters informed along the way.