In the past few years, Cascade Forest Conservancy has become increasingly concerned about the reemergence of regeneration harvest on National Forests and public lands. Regeneration harvest is a harmful harvesting practice, similar to a clearcut, where only 10-20% of the tree stand is left behind. While conservationists see regeneration harvests as harmful to forests, it is lucrative for landowners, timber companies, and land management agencies. Regeneration harvest is not a new issue. However, the inclusion of this method to create early seral habitat is something we are experiencing with increasing frequency and scale on the Gifford Pinchot National Forest.
WHAT IS EARLY SERAL HABITAT?
---
Following a stand disturbing event like wildfire, disease, and major wind disturbances, a forest typically progresses through several stages from its resurgence to becoming an old-growth stand. The different types of forest habitat created throughout this process can be categorized in seral stages.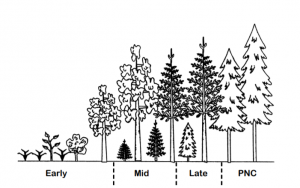 As seen in the diagram above, the early seral forest stage is initially dominated by grasses and shrubs. Shade-intolerant tree species also establish in the early seral stage. The mid seral stage has a mix of species, with early seral species and mid seral species present in almost equal amounts. Late seral stands have both mid seral and late seral tree species present. The Potential Natural Community (PNC) stage where old-growth trees are present, features a composition where early or mid seral species are scarce or absent altogether.
WHAT THAT GENERALLY LOOKS LIKE IN THE FOREST:
---
EARLY SERAL – Grass and seedlings
MID SERAL – Saplings and young forest
LATE SERAL – Mature forest
PNC – Old-growth forest
Different kinds of wildlife prefer different seral stages as their habitat. For example, certain birds, butterflies, and moths prefer early seral habitat, whereas the northern spotted owl requires late seral and old-growth forest. Healthy forests contain a mix of various stages of regrowth.
WHY IS CLEARCUTTING MATURE FOREST TO CREATE EARLY SERAL SO PROBLEMATIC?
---
Although early seral habitat is less abundant on the landscape than it has historically been, sacrificing mature forests to restore early seral habitat does not make sense. Early seral habitat can be created relatively quickly and easily; late seral habitat and mature forest can only be created with time. Additionally, the quality of early seral habitat created by stand-replacing wildfire or disease cannot necessarily be recreated by regeneration harvest. What this means is that we could end up losing critical mature forest on the landscape to create a habitat that may not provide the ecological benefit used to justify creating early seral through harmful forest management practices in the first place.
WHAT HAS REGENERATION HARVEST AND EARLY SERAL CREATION LOOKED LIKE ON THE GIFFORD PINCHOT NATIONAL FOREST?
---
Cascade Forest Conserevancy has encountered timber sales for the last few years that have incorporated regeneration harvest for early seral creation. Six years ago we weighed in on Swift, a timber sale in the Mount Adams Ranger District (MARD) that proposed just under 200 acres of regeneration harvest. Through our work in the collaborates and participation in the public commenting and objection process, the size of the regeneration harvest was reduced to 123 acres. We are now faced with a new proposal in the Upper Wind planning area of MARD that proposes 450 acres or regeneration harvest with nearly 200 acres proposed in mature, 120-year-old forest. We are concerned with the scale of regeneration harvest and the inclusion of critical mature forests. We will be working with our collaboratives and the Forest Service, as well as participating in the public commenting process over the coming months to remove older mature forest stands from the proposal and reduce the overall acreage of regeneration harvest.