In October of last year, the Big Hollow Fire swept through over 40,000 acres of forest in the Mount Adams Ranger District of the Gifford Pinchot National Forest. Following a disturbance event like the Big Hollow Fire, stands that burned at high severity, causing a high degree of tree mortality, will revert to the earliest stage of forest development, creating complex early seral habitat. 
Link to first early seral blog.
The idea of early seral creation on the Gifford Pinchot National Forest surfaced over a year ago when the Mount Adams Ranger District began to release Forest Service proposals for large-scale regeneration harvest in the Upper Wind watershed for the purpose of recreating early seral habitat. This proposal was alarming to CFC for several reasons:
• First, regeneration harvest, simply put, is a "sloppy clear-cut"—a silvicultural practice that has immediate, short-term, and long-lasting detrimental impacts on soil health, water quality, and wildlife. 
• Second, the Upper Wind proposal included the clear-cutting of mature forest stands over 120-years-old—soon-to-be old-growth forest that would take over a century to replace.
• Third, with the increasing prevalence and intensity of wildfires in the Pacific Northwest, it seemed like only a matter of time before a wildfire would create large patches of early seral habit on its own. And it did. 
CFC submitted all of these concerns to the Forest Service last summer when the project came up for scoping before Big Hollow Fire happened. Given the purpose of the Upper Wind proposal was to create early seral habitat determined to be lacking in the forest, we fully expected this part of the proposal to be removed following the fire. 
The Big Hollow fire created upwards of 4,000 acres of complex early seral habitat within the Upper Wind watershed and project area. The Forest Service's proposal for the creation of 400 acres through regeneration harvest—a tenth of the habitat the fire had just created— no longer made ecological sense, especially at the cost of older forest stands. Forests in the 80-120 year age range are poised to be the next cohort of old-growth—habitat we are losing at alarming rates from the impacts of climate change. 
Big Hollow Fire Map: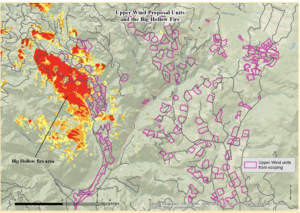 Protecting mature forests and reducing the scale of regeneration harvest has been at the forefront of our timber work over the last year. This project is unlikely to be the last threatening large-scale clear-cuts on federal lands. Once more abundant in our Pacific Northwest forests, early seral habitat is returning quickly as the prevalence and size of wildfires return to our landscapes. Preserving older forests is our best chance of protecting our forest ecosystems from the accelerating impacts of climate change—they are not suitable candidates for clear-cutting.