Last month, Cascade Forest Conservancy staff and volunteers ventured out to the forests and meadows between the Dark Divide and Spencer Ridge roadless areas to capture on-the-ground information for a potential future protected area. This part of the forest, which we refer to as the Clear Creek area, has been part of internal discussions at CFC for the last several months as we have been refining conservation recommendations that will be included in our soon-to-be-published second-edition Climate Resilience Guidebook. 
While out in the field, participants ground-truthed old-growth maps to ensure we are protecting these rare habitats and surveyed roads that may be candidates for decommissioning. In addition to finding swaths of large Douglas-firs on the hillsides and groves of giants standing next to wet meadows, we toured miles of the forest road system to collect information about vegetative regrowth, culvert function, and general observations of use and disrepair.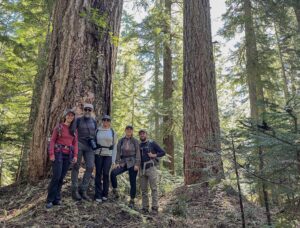 Our Guidebook will examine the impacts that climate change is expected to have on southwest Washington's ecosystems and outline recommendations to build resilience and increase carbon storage. We identified the Clear Creek area as a priority area for protection for a few reasons.
A LARGE ROADLESS REFUGE
---
First, because of its location between two roadless areas, protecting this area represents an opportunity to create a large, connected roadless area that can serve as high-quality, connected habitat for wildlife. It is already an area with relatively few roads, and most that do exist here are maintenance level 1 roads, meaning they are likely remnant roads from the timber heyday and not open for public use. These remain in the system in case they are needed for future timber harvests. There are also a handful of maintenance level 2 roads. These are backcountry roads, which in some cases are well used and appreciated and in other cases are under-maintained and already starting on a process of natural recovery where trees and other vegetation are reclaiming their foothold. These roads can be good candidates for closure and if old culverts remain along the route, they are good target roads for more thorough decommissioning where natural water flows are re-established and the area is set back on a trajectory toward wild-ness.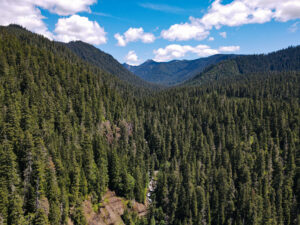 Over the next few years, we plan to work with volunteers to better understand which roads are suitable candidates for closure or decommissioning and to work with agency staff to advance these efforts. As a large roadless area with beautiful meadows and ancient old-growth forests, we will also explore opportunities to increase backcountry recreation opportunities like hiking and backpacking. There are many defunct roads which could be good candidates for a road-to-trail conversion.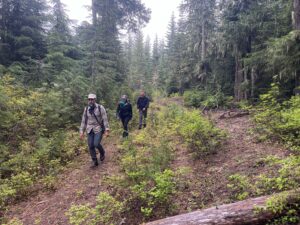 A DENSITY OF OLD-GROWTH
---
Another reason this area became a top contender for protection is the presence of large tracts of intact old-growth and mature forests that exist here. Old-growth forests are a relatively rare ecosystem in the region, so we work diligently to ensure that all old-growth is retained and mature forests are protected to serve as our future old-growth.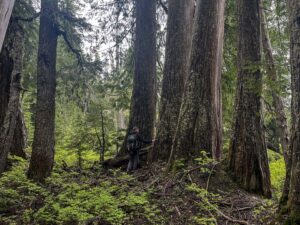 In the coming months, we will be publishing the Climate Guidebook with pinpointed strategies for improving the health and resilience of the landscapes of the southern Washington Cascades. Stay tuned!