The Little White Salmon watershed is a 86,000-acre area spanning the transition zone between the wetter west-side forests and drier east-side forests of Washington's southern Cascades, 80% of which is within the Gifford Pinchot National Forest. Due to its location, the watershed contains a unique mix of forest types and a high level of biodiversity, but it's also at risk from significant climate impacts. 
It's no surprise then that this watershed is at the center of conversations about how to best manage forests on the verge of change, or that there are differing opinions about what that means.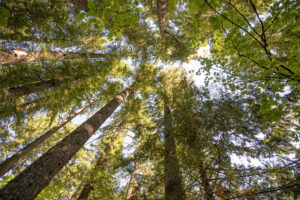 The U.S. Forest Service is contemplating treating a huge area within the watershed through a combination of commercial and non-commercial thinning. In a break from other recent timber sales in the forest, the initial scoping plans for the Little White Salmon timber sale include considerations to thin thousands of acres of mature and transitional forests, although planners have publicly acknowledged they expect the amount to decrease as the agency moves closer to creating a final version of its plan.    
The agency is proposing thinning in mature forests to mitigate the increasing impacts from drought, insects, disease, and wildfire that this area is likely to experience.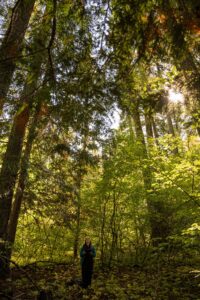 Generally, Cascade Forest Conservancy doesn't support plans that involve thinning activities in mature forests, as these are areas of high ecological and carbon storage value and it is unclear whether the potential benefits of thinning would offset the more immediate negative impacts of harvest.
However, we understand the situation is nuanced and there is a lot of complexity and uncertainty – particularly in this transitional watershed. Because of this, we have been visiting these stands and collecting data to help inform our efforts ensuring that forests and wildlife remain resilient to the threats of climate change.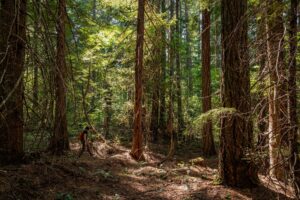 On the last weekend of September, CFC staff and volunteers ventured off the beaten path in the Little White Salmon watershed to collect on-the-ground information. 
We targeted some of the older stands (those between 120 and 300 years of age) for our data collection efforts to see for ourselves if the on-the-ground conditions matched up with age estimates and to gain information about forest conditions that spatial analysis cannot provide. 
Teams of volunteers spread out and conducted surveys collecting information about tree species, tree densities, tree diameters, the presence and amount of large downed wood, and species diversity in the understory in 30-foot radius circles.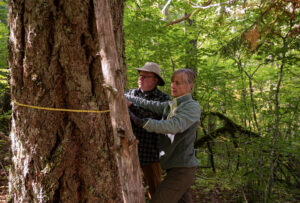 Each team worked hard to collect as many plots as possible and everyone gained some skills in estimating tree sizes and types by the end of the trip. Each team found well-functioning mature forest stands and a number of large trees in the survey area, with the biggest coming in at 57 inches in diameter. 
In the coming weeks and months we will be discussing this timber harvest proposal with the South Gifford Pinchot Collaborative and the Forest Service and working to make sure that critical habitats are protected and that management plans are well-tuned to ecosystem resilience. 
Thanks to all the volunteers who gave their time and energy to this project!