[vc_row row_type="row" use_row_as_full_screen_section="no" type="full_width" angled_section="no" text_align="left" background_image_as_pattern="without_pattern" css_animation=""][vc_column width="1/12″][/vc_column][vc_column width="5/6″][vc_column_text] 
The Cascade Forest Conservancy (CFC) has grown a special partnership with the Cowlitz Indian Tribe (CIT) on a number of important projects. The Tribe has been a partner of ours for many years, collaborating in the field as well as on natural resources policy issues, but now we are rolling up our sleeves for several on-the-ground restoration projects. Most recently, the Cowlitz Tribe has been a key partner on our beaver reintroduction efforts, and a sub-grantee of a CFC Wildlife Conservation Society grant. This exciting collaboration is a major, landscape-scale restoration project in the Gifford Pinchot National Forest that grew out of our 2016 Wildlife and Climate Resilience Guidebook (which can be viewed here – https://www.cascadeforest.org/wp-content/uploads/2017/04/Wildlife-and-Climate-Resilience-Guidebook-2017.pdf).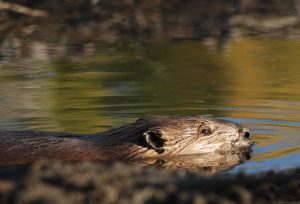 To date, CIT has collaborated with us on many pivotal aspects of the project – joining us on beaver habitat surveys, forming agreements with wildlife trapping companies to gather the beaver, and creating holding facilities to keep the beaver comfortable until they can be relocated.
Over the next year, CFC and CIT will continue to work closely to capture and relocate beavers from private lands, where they are often trapped and killed, to wild places where they help provide crucial functions to vulnerable waterways. Beaver's industrious nature leads them to expand wetlands and fish habitat, create pools where water can cool down and slow down, and combat other effects of climate change. We are grateful to the Wildlife Conservation Society for giving us the opportunity to pursue this ambitious and important project.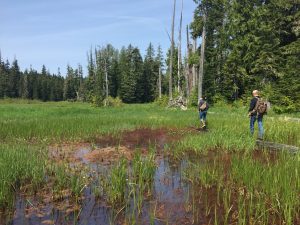 Our work with the Cowlitz Tribe doesn't end there. A forest-wide effort to restore huckleberry to the landscape is currently in its second year. The U.S Forest Service, Pinchot Partners Collaborative Group, CFC, CIT, and other agencies have worked together to create the first draft of the Gifford Pinchot National Forest Huckleberry Management Strategy. The strategy will be a guide for future huckleberry management by the Forest Service to ensure huckleberries are healthy and plentiful each season for pickers of all types. 
Finally, we are very excited that a representative of the Cowlitz Tribe working on cultural resources is considering joining our Board of Directors. His background as an ecologist makes him a great addition to our Board and we look forward to bringing our two organizations closer through his involvement.
Our mission is to protect and sustain the forests, rivers, wildlife, and communities in the heart of the Cascades. The Cowlitz people are one of the communities that we are proud to call friends and partners. Together, we will continue to preserve the lands, history, and natural resources that are so important to our families and future generations.[/vc_column_text][/vc_column][vc_column width="1/12″][/vc_column][/vc_row]