Which local high-altitude specialist is the size of a potato, has a teddy-bear face and large round ears, enjoys picking wildflowers, and screams "EEEEEE" like a squeaky plush toy? You guessed it–the American pika.
Pika are the smallest members of the lagomorph (rabbit) family. They are covered in a thick tan, brown, and black coat that acts as camouflage among the rocks and allows them to stay warm in the subalpine and alpine terrains they typically inhabit. Rock faces, rock slides, talus slopes, and cliffs are their preferred home.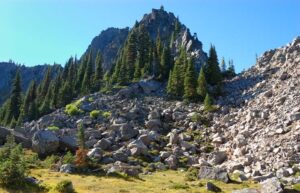 It's easy to understand why the American pika is a favorite of many hikers in the western United States and Canada. But these undeniably adorable animals are in trouble.
Pika are sensitive to changes in climatic conditions. The summer months are an important time for collecting grasses and wildflowers, which are then dried into distinctive hay piles that will sustain the pika through the alpine winter. But foraging in high temperatures can be deadly for pikas. They have a temperature threshold of 78 degrees Fahrenheit and will not survive if they are exposed to high temperatures for too long. On hot days, pika are forced to limit the time they spend foraging to avoid over-exposure. The warmer temperatures brought about by climate change are making it more difficult for pika to gather enough food for the winter.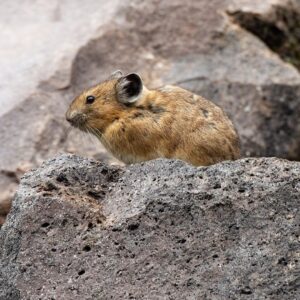 These changes are causing pika to move to even higher elevations. But many populations will soon find that they cannot go any higher. 
In many places, pika populations are declining. Gathering more data about current numbers and population trends is essential to understand what kinds of protections this species may need. Additionally, the ways in which pika respond to changes in the climate make them the perfect climate indicator species. Their climate sensitivity helps scientists infer the conditions in a particular habitat. That's why Cascade Forest Conservancy has decided to join the Cascades Pika Watch collaboration and why we are launching a new program–a way for volunteers to make a difference for pika, independently and on their own schedules! 
Cascades Pika Watch is a collaboration between the Oregon Zoo and the Point Defiance Zoo and Aquarium. They have led highly successful projects counting and studying pika for many years in the Columbia Gorge (the Columbia Gorge pikas live at lower elevations than anywhere in the United States!) and in the North Cascades. Unfortunately, there is currently a gap in pika data between those two project areas. Cascade Forest Conservancy will lead the efforts in southwest Washington to expand the study across a larger geographic area.
Watch Oregon Field Guide's segment about Cascade Pika Watch and the pika in the Columbia Gorge
Help from volunteers will be critical for Cascade Forest Conservancy's efforts to study pika in the Gifford Pinchot National Forest. Unlike CFC's group trips, pika research offers volunteers the chance to make an impact while setting their own schedule and pace! No experience is necessary and any level of participation will help us fill in the data gaps about this charismatic climate change indicator species!
Pikas are a natural fit for independent citizen science. They are easily identifiable, are found in beautiful places, and offer invaluable information about environmental changes. We will be hosting volunteer training on June 11th. You can attend in person at our office in Vancouver or by joining our livestream (registration will open in February). During the training, we will go over:
Pika and habitat identification

Opportunistic observations vs. sitting surveys

Equipment checklist

Safety procedures

Volunteer guidelines 
Whether you're going on a hike in the Gifford Pinchot National Forest to opportunistically observe pika, or you want to claim a survey spot within the forest to look and listen for pika (the sitting survey) this independent volunteer opportunity is just for you! 
If you have any recent pika observations that you'd like to share or if you want to get started before June, please email Amanda Keasberry, CFC's Science and Stewardship Manager, at amanda(at)cascadeforest.org.